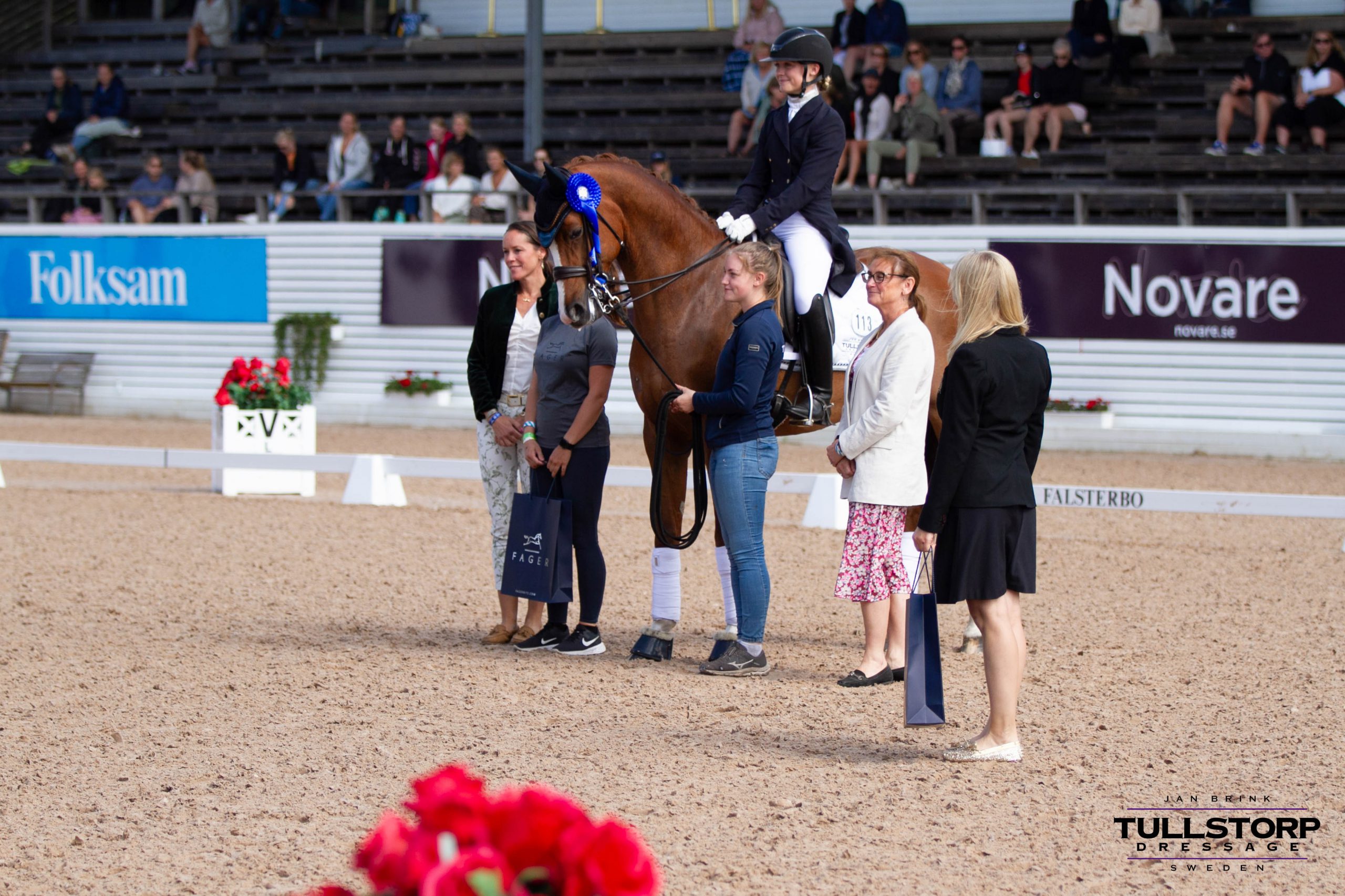 Jessie Johansson & Luuk H
Tullstorp horses and riders did great at Falsterbo Horse Show 2023
The greatest outdoor competition in Sweden, Falsterbo Horse Show, was held last week. A week filled with horses, competition at the highest level from young horses to Nations Cup both in jumping and dressage.
Tullstorp was represented with horses and riders in almost every class. First out were the 5-year olds in Scandinavian Open. Tullstorp rider Jessie Johansson competed 2 horses among the grand starting list of 51 horses. In the semifinals on Monday, Jessie competed Zanka Söholm (Blue Hors Zack x Solos Landwind) and was placed 5th with 79,146%. Jessie also competed the gelding Valentino (Vitalis x Don Frederico) and they were placed 13th with 75,668%.
Only 12 combinations qualified for the finals so Valentino was first outside placements.
The Tullstorp rider colleague Jasmin Andersson competed the 5-year old Icon VZ (Ironman H x Blue Hors Hotline)
after only a few months together and they received 70,523%.
On Tuesday, it was time for the 6-year olds. Jessie competed her own homebred Flow (Mr Vain GJ x Figaro R) and with score of 77,717% they placed 5th and made it to the finals. Jasmin competed her own 6-year old
Manzanillo (Zuidenwind x Richfield) and received 67%.
In the semifinals for the 7-year olds on Thursday, Jessie competed Luuk H (Gunner KS x Vivaldi). They were placed 6th with 74,329% and qualified for the finals. Tullstorp student Marina Mattsson from Hannell Dressage competed the 7-year old Ladavion (Apache x San Remo) and the combination was placed 4th with 74,997%.
In the  Scandinavian Open finals for 7-year olds in Saturday, Jessie & Luuk received a great
2nd placement with 77,815% with 84,2% for the gaits.
The American Tullstorp student Rebecca Cohen competed the CDI1* with Jameson (Van Gogh x Upgrade). They did a great job and ended up 9th in the Intermediarie I on Sunday. Rebecca is for the third time based at Tullstorp for a whole season from May to November training with Jan Brink and during winter time she is competing
at her home base in Wellington, USA.
Tullstorp student Marina Mattsson from Hannell Dressage competed in the CDIO4* Nations Cup, representing Sweden with Helix (Apache x Jazz). In the Grand Prix Special on Sunday the combination was placed 5th with 70,574%.
Sweden was placed 2nd in the Nations Cup.